ZUMBA SONG LYRICS - GOOD NEWWZ
Zumba song Lyrics from the movie of GOOD NEWWZ . Zumba Lyrics was written by Vayu . Zumba Lyrics song sang by Romy . Zumba song music directed by Tanishk Bagchi . Zumba Song video directed by Raj Mehta .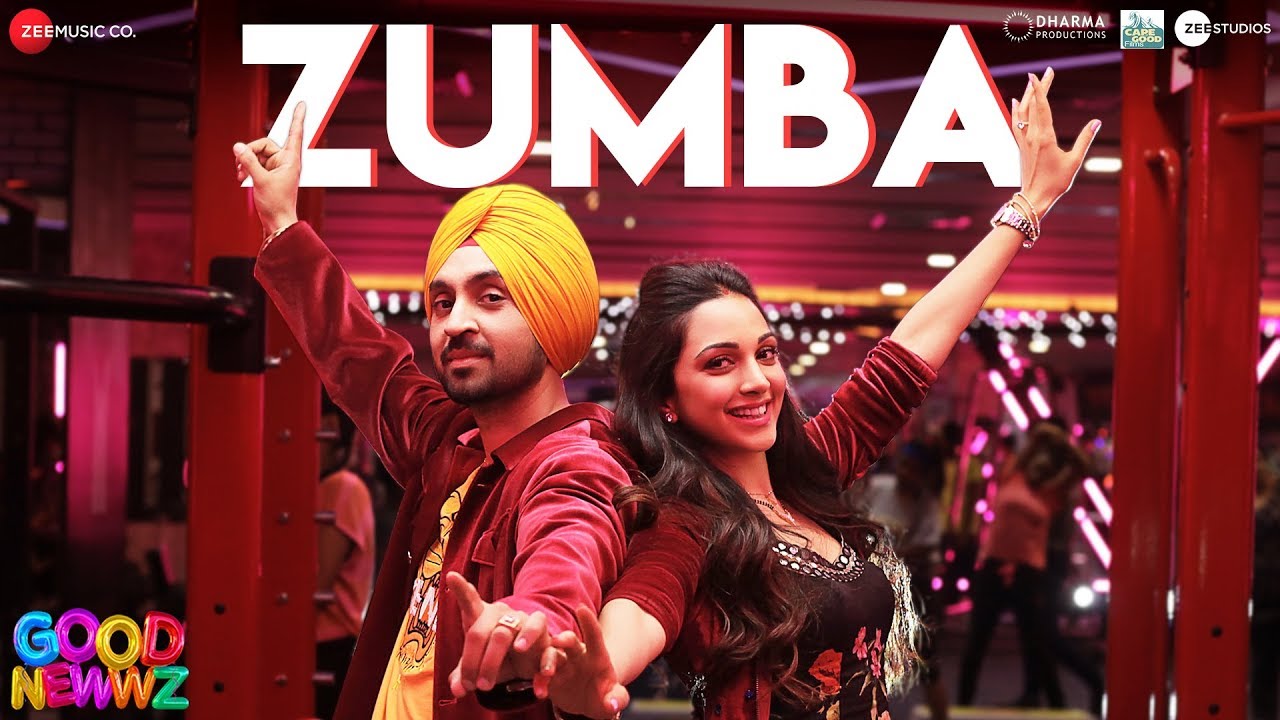 Movie Name :
Good Newwz
Song - Zumba Singer - Romy Music - Tanishk Bagchi Programmed & Arranged by - Tanishk Bagchi Lyrics - Vayu
" ZUMBA SONG LYRICS "

Zumba Taan Sajda
Oh Zumba Taan Sajda
Zumba Taan Sajda
Oh Zumba Taan Sajda

Kuyein Te Paani Parendiye
Tu Mal Mal Pair Na Dho
Kuyein Te Paani Parendiye
Tu Mal Mal Pair Na Dho

Waagi Chamba Khede Gaya
Tu Baithi Haar Paro
Waagi Chamba Khede Gaya
Tu Baithi Haar Paro

Duniya Saari Sukhi Roti
Dil Taan Magar Paratha
Bebe Saddi Vekh Variety
Seikh Kare Lakh Thaa Thaa
Bhangra Wali Beat Pe Aaja
Thumke De Do Char

Zumba Taan Sajda
Oh Zumba Taan Sajda
Zumba Taan Sajda
Jado Bigal Kare Sardar
Zumba Taan Sajda
Jado Bigal Kare Sardar
Zumba Taan Sajda

Ajj Ajj Ajj Naach Naach
Dharti Hilauni Aa

Kuyein Te Paani Parendiye
Tu Mal Mal Pair Na Dho
Ho Zumba
Kuyein Te Paani Parhendiye
Tu Mal Mal Pair Na Dho
Ho Zumba

Waagi Chamba Khede Gaya
Tu Baithi Haar Paro
Waagi Chamba Khede Gaya
Tu Baithi Haar Paro
Zumba

Zum Zum Zum…

Zara Pair Chala Lo Ji
Zara Kamar Hila Lo Ji
Ye Sharam Ka Cholesterol
System Se Nikalo Ji

Haye Haye Haye Shawan
Haye Haye Haye Haye Shawan

O Zara Pair Chala Lo Ji
Zara Kamar Hila Lo Ji
Ye Sharam Ka Cholesterol
System Se Nikalo Ji

Zara Sang Mere Aana
Thodi Body Tu Ghumana
Kyun Khadi Hai Banke Khamba
Kat Jayega Figure Ghat Jayegi Umar
Everyone let's do Zumba

Zumba Zumba Zu Zu Zumba
Zumba Taan Sajda, Sajda
Ho Zumba Taan Sajda, Sajda

Oh Zumba Taan Sajda
Jado Bigal Kare Sardar
Zumba Taan Sajda
Jado Bigal Kare Sardar
Zumba Taan Sajda

Bhangra
Sajda Sajda Sajda Zumba
Taan Sajda Sajda Sajda Zumba
Taan Sajda Sajda Sajda Zumba
Taan Sajda Sajda

Shaking Your Boo**!
Sajda Sajda Sajda Zumba
Taan Sajda Sajda Sajda Zumba
Taan Sajda Sajda Sajda Zumba
Taan Sajda Sajda Sajda

Taan Sajda
Jado Bigal Kare Sardar
Zumba Taan Sajda
Jado Bigal Kare Sardar

Zumba Taan Sajda
Jado Bigal Kare Sardar…

Band Karo Ae Bakwaas
Koyi Naami Gaana Shuru Karo
Written By:
VAYU